Control all of your Homekit gadgets from one place on your lock screen.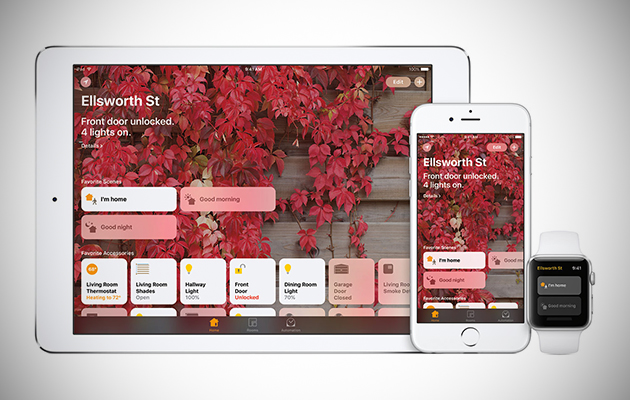 Until recently, anyone playing smart home with Apple Homekit products had to hop between apps to manage their various devices. Thanks to a handy little app called Apple Home rolling out with iOS 10, however, home automation is an infinitely easier task. Here's everything you need to know about using Apple Home:
It works with loads of stuff
Over 50 brands, to be precise. Basically, if it works with Homekit, it works with Apple Home. Branded products you can remotely control using Apple Home include Philips Hue lightbulbs, Netatmo gadgets and the Hive smart thermostat. Check if your gadgets are compatible here.
It turns your iPhone screen into a hub for action
No more flitting between apps to see video feeds from your video doorbell or toggling your smart lights from an annoying app in a dusty corner of your phone's home screen. Apple Home brings all of that functionality under one roof, so you can answer your doorbell and chat, toggle lights, see security camera feeds and tons more from one single place. Brilliant.
You can group your gadgets into separate rooms
This makes accessing certain gadgets much more intuitive, and really just makes your smart home feel like one big functioning entity rather than a scattering of various gadgets and apps. It makes voice control easier too. You can tell Siri commands like, "Siri, switch off the bedroom lights", or "Siri, turn on the heating upstairs".
Grouping your gadgets in this way makes creating "scenes" easier too. A "Morning" scene, for instance, could activate your bedroom lights, turn on the heating and open your kitchen blinds – or whatever smart stuff you want switched on when you wake up. You could even make a "Coming Home" scene that activates your lights, music and heating when you roll in after work.
It's tons of touchscreen fun
Apple Home really makes the most out of your iPhone's touchscreen talents. 3D touch lets you press and hold icons to access more detailed controls for actions like dimming the lights or cranking your heating to the exact temperature you require. Swipe up from your lock screen, then swipe right, and Apple Home will pop up without you even needing to unlock the screen and tap the app.
It works on your TV
Apple TV only, obviously. You can access the entire range of Apple Home functions on your TV screen exactly like in the app – just in giant format. Awesome. This pairing also enables you to control your gadgets from practically anywhere when you're out and about. Just use the Home app on your phone to tell your Apple TV what smart tricks you want your gadgets to perform.
…And on your watch
Apple Home isn't just available for regular-sized iScreens. If you're an Apple Watch wearer, you can access Apple Home straight from your wrist.
Read more about Apple Home here.